Mykonos Blue Grill
A Dining Experience to Awaken the Senses
Mykonos Blue Grill is a restaurant that transports you to the Greece of your imagination. Traditional Greek food, wine and spirits being served with the integrity of pure flavor and style of the country. We further our dedication to this mission by featuring only all natural, ingredients on our menu. For reservations or events please email info@mykonosblueevents.com.


Breakfast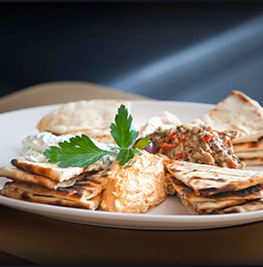 Lunch
Dinner
HOURS OF OPERATION
Breakfast
7 AM - 11 AM
Lunch
12 AM - 4 PM
Dinner
Sun - Thurs: 5 PM - 11 PM
Fri - Sat: 5 PM - 12 AM
Private Events
Our experienced events team will ensure that your event planning process is seamless and stress free. We will custom design a package for your event and work with you every step of the way from planning through production, to ensure a perfect and memorable experience. Please connect with our events team by completing our inquiry form today to inquire about your next event at Mykonos Blue Grill.